2nd Workshop on Emerging Web Services Technology (WEWST07)
ECOWS Workshop Proposal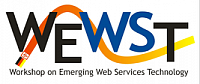 2nd Workshop on Emerging Web Services Technology
Please look at http://www.iks.ethz.ch/wewst07/ to get more information.
Workshop Description The Workshop on Emerging Web Service Technology (WEWST) is the premier workshop for the academic and industrial communities to discuss their innovative ideas and research contributions advancing the state of the art in Web services technologies. Although the advantages of Web services to allow businesses to interact with each other while maintaining a loose coupling are well known, there are still many challenges to be solved in this important field of research. The wide variety of tools, techniques and technological solutions presented in WEWST share one common feature: they push the envelope of current Web services research in new directions by introducing new and sometime controversial ideas into the field. The goal of WEWST is to allow participants to gain new insights and to start collaborations by discussing how their own work can be used in related but different areas.
Topics of Interest The WEWST 2007 program committee seeks original, high quality papers related to emerging aspects of Web Services, such as but not limited to the following:
Streaming Services and Event Driven Architectures
RESTful Web Services and Resource Oriented Architectures
Business Driven Development
Model Driven Engineering for SOA
Web Services for Enterprise Computing
Mobility and Services
Dynamic Web Service Discovery and Composition
SLA Creation and Service Delivery
Managing Change and Service Evolution
Business Process Management for Web Services
Software and Service Engineering
Program
The workshop will feature a keynote address, 7 full papers and 4 short papers on Emerging Web Services Technology.
Please look at http://www.iks.ethz.ch/wewst07/ to find the full program and the WEWST07 Preliminary Proceedings.
Important Dates
Abstract Submission Deadline: 20. August 2007
Paper Submission Deadline: 27. August 2007
Acceptance Notification: 1. October 2007
Early Registration until: 22. October 2007
Camera Ready Papers by: 26. October 2007
Workshop: 26. November 2007
Revised Camera Ready Papers: 26. December 2007
Workshop Post-Proceedings published in January 2008
Workshop Program Chairs
Thomas Gschwind, IBM Zurich Research Lab, Switzerland
Cesare Pautasso, University of Lugano, Switzerland
Workshop Program Committee
Luciano Baresi, Politecnico di Milano, Italy
Elisa Bertino, Purdue University, USA
Walter Binder, University of Lugano, Switzerland
David Breitgand, IBM Haifa, Israel
Christoph Bussler, BEA, USA
Fabio Casati, University of Trento, Italy
Malu Castellanos, HP, USA
Paco Curbera, IBM Watson, USA
Theo Dimitrakos, BT, UK
Jürgen Dunkel, FH Hannover, Germany
Schahram Dustdar, Vienna University of Technology, Austria
Daniela Grigori, Université de Versailles, France
Alexander Keller, IBM, New York, USA
Frank Leymann, University of Stuttgart, Germany
Mark Little, Red Hat, UK
Makoto Matsushita, Osaka University, Japan
Claus Pahl, Dublin City University, Ireland
Dumitru Roman, DERI Innsbruck, Austria
---
---